Brad Wouters
Executive Vice President, Science and Research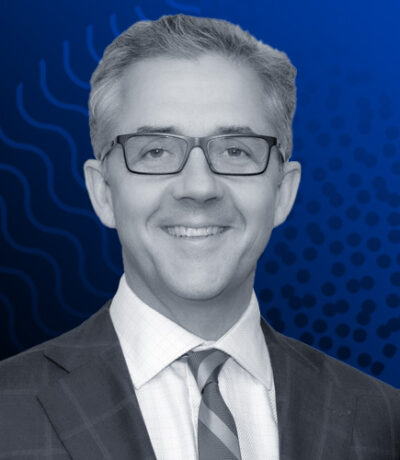 Brad Wouters
University Health Network
Executive Vice President, Science and Research
Bradly Wouters, PhD is the Executive Vice President, Science & Research at the University Health Network (UHN)—Canada's largest research hospital. He is also a Senior Scientist at UHN's Princess Margaret Cancer Centre, and a Professor in the Department of Medical Biophysics and the Department of Radiation Oncology at the University of Toronto.
Dr. Wouters is a Tier 1 Canada Research Chair in Hypoxia and the Microenvironment and is an internationally renowned leader in this field. His findings have been published in more than 175 scientific articles, reviews, and proceedings papers. His research also led in part to the founding of Northern Biologics, a UHN spinout company for antibody-based therapeutics that was established with an upfront US $30 million cash payment from Celgene. In its first year, Northern Biologics was named the top emerging health care company by BIOTECanada.
Dr. Wouters has secured more than $23.6 million in peer-reviewed research funding as lead or co-lead investigator over the past several years alone from highly competitive programs from the Terry Fox Research Institute and the Ontario Research Fund. He has helped to secure an additional $5.4 million in peer-reviewed funding as a collaborator and $6 million from non–peer-reviewed sources such as Pfizer, and was the lead applicant on a large-scale cancer research infrastructure project at the Princess Margaret Cancer Centre valued at more than $29.5 million.
For his work in cancer research, Dr. Wouters has been recognized with prestigious international awards and distinctions, including the Radiation Research Society's Michael Fry Research Award, the European Society of Radiotherapy and Oncology's Klaas Bruer Gold Medal, and the University of Pennsylvania's John M. Yuhas Award for excellence in radiation oncology. Most recently, he was honoured with the Canadian Cancer Research Alliance's 2021 Award for Exceptional Leadership in Cancer Research. He holds several prominent positions; for example, he is a Member of the American Society for Therapeutic Radiation Oncology's Science Advisory Committee and Radiobiology Committee, and the European Society for Radiotherapy and Oncology's Science Council. He serves on the Board of Directors for Toronto Innovation Acceleration Partners, the Ontario Institute for Cancer Research, Clinical Trials Ontario, Research Canada, and the American Association for Cancer Research International – Canada.
As UHN's Executive Vice President, Science & Research, Dr. Wouters oversees a research enterprise with an annual budget of approximately $500 million. UHN comprises seven research institutes and 11 medical programs with more than 1,150 independent scientists, 1,300 trainees, and 2,400 other research staff. These teams publish more than 4,100 scientific articles each year, and also commercialize their research through approximately 120 licenses, 100 sponsored research agreements, and 140 new patents issued annually. Owing to this level of activity, UHN has been ranked #1 on Research Infosource's list of Canada's Top 40 Research Hospitals each year since the inception of the list in 2011, and was ranked #1 in Canada and #8 in North America for gross licensing revenue from commercialization among hospitals (Association of University Technology Managers, 2020). Dr. Wouters led the development of the UHN Strategic Research Plan, and is currently leading the implementation of this plan through large-scale strategic initiatives towards the institution's vision of A Healthier World. He is also a champion of advocacy for health research in Canada, and was instrumental in leading a campaign for support from the Federal Government during the COVID-19 pandemic that resulted in a historic commitment of $450 million for universities and health research institutions across the country.